Corona Part 3 - When Can We Reopen?
Lars Poulsen - 2020-05-19

Updated 2020-5-22
Corona 3 - When Can We Reopen?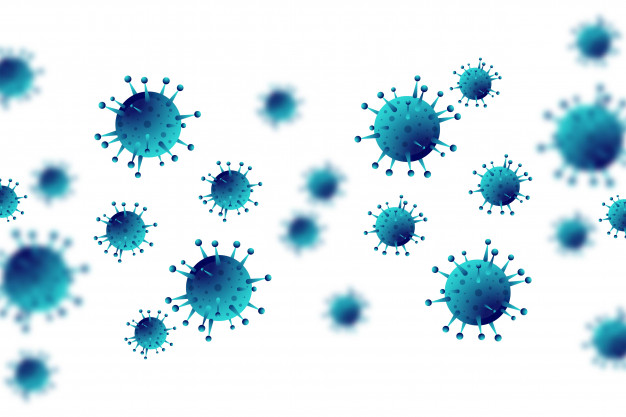 .
Flattening the curve - Revisited
Back in early April, I wrote:
The "social distancing" protocols that have now been pretty uniformly adopted, aim to slow down the infection rate, so that it takes three or four days for the number of cases to double. That means that it takes a month to get from 1000 cases to a million cases, and by then, many of the early cases have healed, their hospital beds are freeing up, and an increasing percentage of the people they come in contact with have already healed and have immunity.

Under these circumstances, it may take 3 to 6 months for the infection to pass through the population, but there may be ICU beds and ventilators for most of the severely ill patients, at least in the wealthier countries, so the death toll will be much lower. Just how much lower depends on many factors that we do not yet know, but for the USA, it is projected to be between 100,000 and 250,000 - compared to 3 to 6 million without these precautions.
I also wrote:
If we had plentiful and reliable tests before the first infections, we could have done what South Korea and Iceland did:

Screen everyone coming into the country from areas with the disease.
Divert everyone with the infection to a quarantine area,

and release them only ofter the two-week incubation period expired, further directing everyone with symptoms to isolation hospitals.

If followed diligenty, these measures might maintain a situation where the virus is not circulating in the community.
All of that still makes sense. The prediction that by "social distancing" we might reduce fatalities by a factor of 20 has played out. While New York City (and its surrounding metro area including parts of Connecticut and New Jersey) was totally overwhelmed by the outbreak, they did eventually slow it down to where they had no more severe cases than their hospitals could manage, and nowhere else reached that level of near-collapse. Indeed, in most of the country, we have stayed at very low levels of infections (2-5%) except for a limited number of hot spots.
The Hot Spots
The hot spots are very well defined. Outbreaks grow rapidly ...
In prisons - where it is not possible to maintain proper distancing. Indeed, these facilities are overcrowded in "normal" times, often holding twice the population they were built for.
In retirement homes and extended care nursing homes. Again, many people living together, so if one gets it, many will be infected. Made worse by the fact that the residents are old people in poor health; that is why they are there to begin with.
In slaughterhouses and meat packing plants. People working shoulder to shoulder in confined spaces with blood spattering everywhere. Because the working conditions are poor, and the pay is very low, they are mostly staffed by immigrants (many of them undocumented) who live in poor quality housing, often packed two or three families in one apartment. And because these low-paying jobs do not offer health insurance to the employees, they come to work even when they are sick.
The meat business has seen incredible consolidation. Most meat is supermarkets in the USA is processed by 4 companies: Cargill, Smithfield, Tyson, and JBS. One of the affected meat plants in Iowa is reported to produce 5% of all meat sold is US supermarkets. This creates high pressure to keep the plants open even when the workers are getting sick. Some of the plants have resisted testing of their workers, but when testing has happened, up to 80% of the workers were infected.
The Upside of Low Infection Rates
The upside of the low infection rates in many places is that these areas might be able to do what South Korea, Taiwan and Iceland were able to do from the outset (as described in the second quote at the top):
Test everyone with symptoms and isolate them.
Test everyone they have been in close contact with and isolate THEM
Eventually test EVERYONE
The problem is that in order to maintain a "clean" region, you have to have a fairly hard border and screen everyone coming in or passing through. This means roadblocks on the interstate highways, where we take everyone's temperature before they can continue, and everyone who "fails" the screening test is refused entry and/or sent to 2 weeks of quarantine. This is very hard to do in the USA.
The Downside of Low Infection Rates
The downside of the low infection rates is that the disease continues for a long time. I had predicted that with social distancing, it might take 3-6 months for the disease to work its way through the population. But here in Santa Barbara, we have suppressed infeactions to the point that it may take YEARS for that to happen. The assumption behind that prediction was that we could suppress the infecton rate just enough that we did not overwhelm the hospitals - and no more.
The Balance
NY Times' science and health report Donald McNeil says that managing this pandemic requires tht we go back and forth between "the hammer" (slowing down infection rates to protect the hospitals) and "the dance" of opening enough to maintain a working economy. I find that we are not "dancing" enough in my area.

At the present time, I would say that Southern Santa Barbara County where I live is clean enough that we could open most activities if they are compatible with keeping distance.
Very few new cases
Plenty of hospital beds and ICU beds
People are fairly compliant to distancing protocols
Testing is becoming available
I do fear that if we open up, and word gets out in Los Angeles that Santa Barbara is open for business, our hotels will rapidly fill up with people from Los Angeles who might be less well behaved. I just do not see us getting away with putting a border checkpoint up on the 101 freeway at Rincon Beach.
The North half of our county has more cases than we here on the South Coast. Not only the Lompoc prisons, but also the city of Santa Maria. I suspect half of the Santa Maria cases are related to prison staff; the rest may reflect more low-income neighborhoods with more people per dwelling.
My Own Urges at This Time
I am ready to take more steps toward reopening than our local authorities are:
Relaxed distancing: 1 meter (3.5 feet) with masks.
All shops open - subject to occupancy limits and distancing. That probably means we should not open bars too much. Drunk people like to crowd in close and touch. But sidewalk cafe's should be fine, and sit-down restaurants with 6 feet between groups.
I want to see my dentist open. Massage therapists.
Open preschools and elementary schools. Although, California has already declared that public schools will not reopen this school year, so only preschools and boys/girls clubs.
Open gyms and health clubs. I miss the "TechnoGym" weight room at the YMCA.
Let's visit with family members so long as they follow similar house rules as we do.
All of this to be rolled back swiftly if we start to see hospitalization rates go up too much.

I think the requirements for "dancing out" are
Less than 2 deaths per 100,000 population over the last 7 days
less than 20 hospitalized COVID patients per 100,000 population on any given day
less than 50 % occupancy in ICU/CCU
ready access to virus tests and antibody tests with less than 2 hour response time.
Any time these are not met, we "bring down the hammer" again: Tighten restrictions again until we meet the qualifications.

Some things that we are not ready for yet:
public gatherings of more than 20 people.
church services - see above.
movie theaters - more than 20 people in a theater.
Update Friday 2020-04-22
Today, the county tells us:
What businesses can reopen? The types of businesses now allowed to reopen in the latter phase of Stage 2 include dine-in restaurants (with modifications), schools and child care, retail stores, shopping malls, some offices, campgrounds, and RV parks. Higher risk businesses, such as hair and nail salons, gyms, churches, and hotels for non-essential stays, are not allowed to open until the Governor declares that eligible counties can move into Stage 3.
So no dentist, no haircuts.
Some sources:
[1] The Big 4 Meatpackers - Article from 2011; since then a Chinese company bought Smithfield

[2] Smithfield Foods: Wikipedia article

[3] JBS S.A.: Wikipedia article
---
More pages
(End of page)